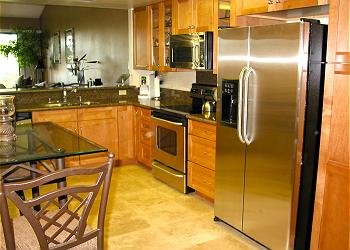 The Benefits of a Vacation Home-Cooked Meal
Traveling doesn't have to mean ruining dedicated diets or budgets
Budgeting for food expenditures during travel to any destination can be almost as difficult as forecasting the week's weather. When staying at a traditional hotel, the challenge is multiplied as travelers face the added expense of dining out for breakfast, lunch and dinner. While the majority of quality hotels do not offer full kitchens, professionally managed vacation rentals allow guests to enjoy their favorite (and often healthier) meals and snacks, as each property provides a full kitchen stocked with clean utensils, pots, pans, plates and ample cabinet/refrigerator space for food storage.
"For my family, including grandkids, the best part of staying in a vacation rental was having breakfast in our jammies," explains Kathy Ogden, a traveler from Clovis, Calif., who stayed with Monterey Bay Property Management. "We loved the freedom to have meals at our leisure and have home-cooked meals instead of dining out."
Often costing less than a single hotel room, vacation rentals afford travelers an accommodations lifestyle unlike any other, providing considerably more space (both for living and dining), amenities, guest services and privacy than other, more traditional lodging options. For answers to common questions, along with additional tips and tools for choosing a rental that fits travelers' needs and budgets, visit Discover Vacation Homes.
Dining on a Dime
The average daily cost for lunch at a full-service restaurant for a family of four is approximately $40.00; dinner prices can jump as much as $6/person totaling $64/day. As the majority of traditional hotels do not offer in-room kitchens or adequate amounts of pantry space, many families are forced to dine out for all three meals per day. Access to a full kitchen adds up to major savings throughout trips of any duration - For example, enjoying cereal for breakfast or sandwiches for lunch, rather than a full-scale restaurant meal, can save enough for additional activities, a nice night out, or more!
Sticking to a Healthy Living Meal Plan
While on vacation, travelers can easily consume more than 4,000 calories a day, translating into an average 5-pound weight gain for a one-week trip. With an in-home kitchen, vacation rental guests are no longer slaves to fast food or other high fat dining options, but are now back in control of their personal menu, allowing them to cook their food, shop for healthy snacks and accurately monitor their caloric intake.
BETTER Vacation Rentals
is a member of Discover Vacation Homes and the Vacation Rental Managers Association. We are dedicated to providing professional property management with the pride of ownership associated with "rent by owner" properties. All of our vacation rentals offer fully appointed kitchens. Most have microwaves, full refrigerators, ranges, ample cook and serve ware, and food storage. Many have disposals, dishwashers, full pantries, ice makers, and full gourmet appointments including slab granite counters. We provide all of our guests with common starter supplies like coffee, salt, sugar, oil, and spices, making our vacation rentals and even greater "kitchen value." Perhaps more importantly, our owners and staff choose vacation rentals for their own travel plans for the convenience and cost savings associated with having breakfast, packable lunches, and snacks available at our fingertips!
About Discover Vacation Homes
Discover Vacation Homes is the trusted public voice and an expert resource on behalf of the professionally managed vacation rental industry. As the awareness initiative of the long-standing Vacation Rental Managers Association (VRMA), it represents approximately 150,000 rental homes, condos and villas from more than 500 of the most well established vacation rental management companies in North America and the Caribbean. Often costing less than a single hotel room, vacation rentals afford travelers an accommodations lifestyle unlike any other, providing considerably more space, amenities, guest services, and privacy than other lodging options.
Much of the content in this article was supplied by Discover Vacation Homes, with their permission.